Preview all the adoptable pets at spcaflorida.org/adopt or visit them in person Monday through Friday 11 a.m. to 6 p.m. or Saturday and Sunday 11 a.m. to 5 p.m. Prior to adoption all pets are spayed or neutered, microchipped, up to date on vaccines and come with a month of flea and heartworm prevention. Call (863) 577-4615 for more information.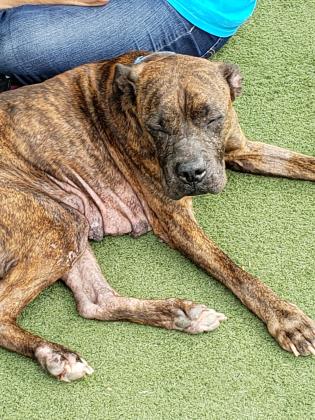 Name:  Dixie
Gender:  Female
Age:  7 years old
Weight: 49 pounds
Species: Dog
Breed: Boxer/Bulldog- Brindle
Orphaned Since: August 2018
Adoption Fee: $100
Can you help sweet Dixie mend her broken heart? She arrived at SPCA Florida in August emaciated and extremely weak after giving birth to 3 pups who didn't survive. Emergency surgery was performed for a life threatening issue which has now been resolved. With much TLC from staff members, Dixie is now starting to thrive and has gained a few pounds. She loves attention and happily returns the affection. This smart gal even knows how to sit and speak for treats. Dixie will make a wonderful addition to a loving family like yours so come to SPCA Florida and meet this sweetheart of a dog today!
Name:  Ty
Gender:  Male
Age:  8 years old
Weight: 93 pounds
Species: Dog
Breed: Bulldog, American/Mix-Black/White
Orphaned Since: March 2018
Adoption Fee: $50
Ready for a companion who loves to eat? Look no further than big Ty. He promises not to eat all of your food- just most of it. Besides eating, this laid back senior dog enjoys snuggling and belly rubs. He loves basking in the sun-the warmth of it probably makes his arthritis feel better. Kids in the home should be 10 and older and realize that this old dog can't play rough due to his arthritis. We'd also recommend he be the only pet and stay away from livestock. Ty is available for a doggie date so stop in SPCA Florida and spend some time getting to know this gentle giant.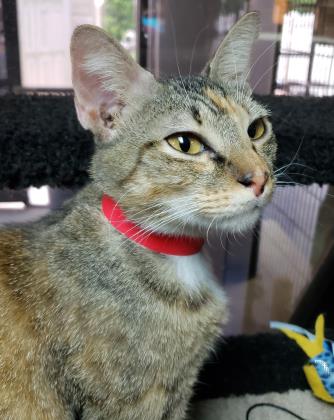 Name:  TT
Gender: Female
Age:  3 years old
Species:  Cat
Breed:  Domestic Shorthair/Mix- Brown/Orange
Weight:  9 pounds
Orphaned Since:  September 2018
Adoption Fee: $60
Can you provide a relaxing home for beautiful TT? This shy girl will need you to go slow and give her time to get comfortable with you. Once she feels safe, you'll be able to pick her up and stroke her soft fur. She'll respond with gentle purring to let you know she's content. She's afraid of children so a calm home with teens or adults only would suit her best. Independent TT enjoys prowling around exploring nooks and crannies on her own. After she's satisfied her curiosity, she'll settle in for some quiet napping. Stop by SPCA Florida to meet TT and let her make your home a purrfect purradise!
Name:  Minnie
Gender: Female
Age:  3 years old
Species:  Cat
Breed:  Domestic Shorthair/Mix- Brown
Weight:  8 pounds
Orphaned Since: April 2018
Adoption Fee: $60
Minnie is the clear winner in the "sweet and petite" category. She likes to spend her days gazing out the window and swatting at butterflies. Don't let her tiny frame fool you- she's very food motivated and would be easy to clicker train. She's also a champion laser light and feather chaser. Minnie is FIV positive and will need someone to ensure she stays monitored for urinary track disease. She is congenial with other cats but keeps to herself for the most part. Come to SPCA Florida and let Minnie be the winner of your heart!